Get Active. Round Dance!

You've discovered

VernonRoundDanceFun.info
A promotional page for the
Rhythm Rounds round dance club
in
Vernon, British Columbia, Canada
.
We teach and enjoy
Choreographed Ballroom Dancing
known as "Round Dancing."
Round dancing couple
in the Okanagan Valley.

ANNOUNCING
SUNDAY AFTERNOON
LESSONS IN
ROUND DANCING!
Halina Centre, Vernon
Go have lots of fun!
Join Sunday lessons
to learn the easy waltz
1:00 to 2:30 pm.
Newcomers welcome
Sept. 22 & 29, 2019.
Just drop in.
No previous dance
experience is necessary.
Nominal admission fee.
In the round dance,
you listen and move
to live cues
from a "cuer."
You're directed
through each step in a
choreographed routine
set to a particular
piece of music.
The dancers progress
as couples around the
dance floor in a counter-
clockwise direction.
Round dancing is an
attractive option for men
who don't like to lead
on the dance floor.
After learning the waltz
you'll progress to enjoy many
different rhythms such
as the two-step & cha cha.
Casual attire is welcomed.
Low heel, well-fitted soft-soled
shoes recommended.
Please bring a partner.
Woman/woman partnering
is welcomed.
Free coffee & tea provided.
We utilize a teaching method
that makes the learning
process easy with lots of
patience and review.
Call or e-mail to express
your interest!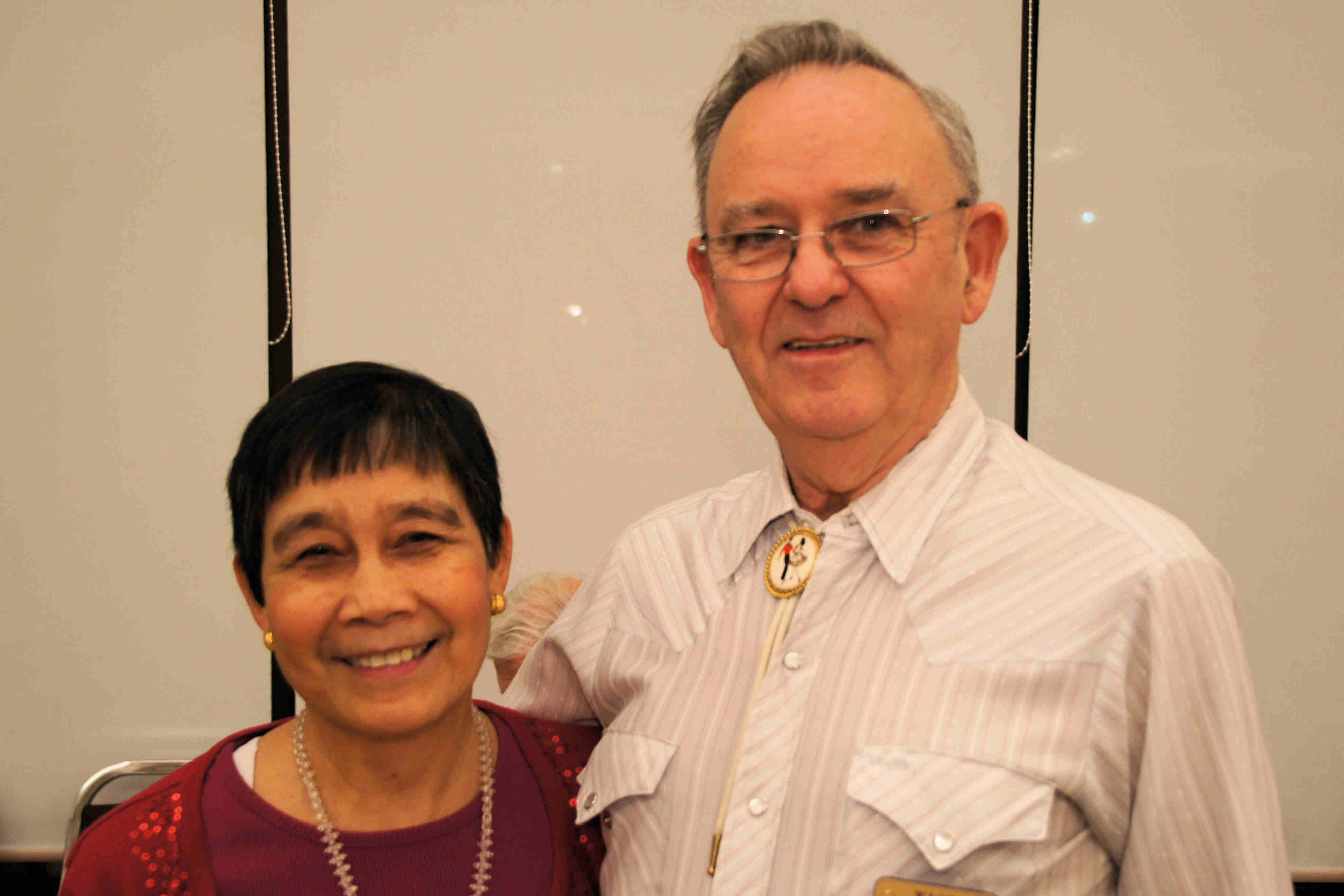 Peter & Stella Tennant,
Cuer-teachers

Combined experience
exceeding 43 years
Taught over 20 years
Location:
Halina Centre, Vernon,
3310 - 37th Avenue.
Click here for a map
Contact:
Peter & Stella
250-542-3568
cell: 250-306-4999
ROUND DANCING
AT THE
RHYTHM ROUNDS
DANCE CLUB...
What's it about?
Although you learn and dance true
ballroom steps, nobody has to "lead"
because each step is prompted by
a "cuer" over the microphone.
Since each dance is choreographed
to a particular piece of music,
the dancers move in unison
counter-clockwise around
the dance floor.
The music is wide & varied to
some of the greatest tunes!
The Fun, Weekly
Round Dance Schedule

The Rhythm Rounds dance club
includes members who have
completed their new dancer
sessions and progressed
to additional instruction
learning steps or cues
classified into "phases."
Each week, our schedule
will be as follows with
each session 1 1/2 hrs.:
1:00 to 2:30 pm
New round dancers

2:45 to 4:15 pm
Dance & Learn:
Easy 2-Step & Waltz
at the Phase II level

4:30 to 6:00 pm
Phase III and III+
to various rhythms
for advanced dancers
Special offer:
$10 per dancer but
enjoy a lower rate
of only $7 by taking
out a membership or
Associate membership
(for those under 50 yrs.)
in the Halina
Seniors Society.
Also...
A Fee Bonus
for accomplished
round dancers:
Pay for one session
each week and
attend a second free!
For more information
about the sessions, contact:
Peter & Stella Tennant,
Instructors/Club Leaders/Cuers
250-542-3568, mobile: 250-306-4999
Thanks for your support,
dancers, back in February 2016
at the two weekend Workshops
and the evening round dance!
The Okanagan Square & Round Dance
Association sponsored the events
for accomplished round dancers
at West Kelowna.
The Sat. Feb. 20 workshop attracted
17 dancers to refine their knowledge
of the rumba & cha cha.
The Sat. Feb. 27 event drew
another 17 dancers to workshop
the waltz and foxtrot.
That day's evening round dance
saw 11 dancers enjoy themselves.
It was great to see dancers in
attendance from Penticton, Kelowna,
Vernon, Salmon Arm, Blind Bay
and Merritt. Thanks for coming!
We hope that you
took a questionnaire about the
workshops because we invite
you to share your valuable input.
The sponsoring Okanagan Square
& Round Dance Association
expressed its gratitude
to the workshop instructors,
Peter & Stella Tennant
of Vernon, cuers/teachers
and Roundalab members.
Future workshops
are in-the-planning!
See our newspaper article!
Our club & the 2016 year's new sessions
of instruction were featured back on
Sun. Jan. 3 of 2016, page A-23, in
the Vernon Morning Star newspaper.
See it online! Just click here & advance
using the right arrow to page A-23.
Questions?
Select by clicking on an index topic:
Does One Partner Have to Lead the Other?
Are Round Dance Steps Like Ballroom Steps?
How Challenging is Round Dancing?
What Is Round Dancing's Place in the Dance Scene?
Are There Groups Dedicated Only to Round Dancing?
Are There Educational Pages for Round Dancing?
About the Instructors/Club Leaders/Cuers
Round Dancing Described
The round dance is done as couples in a large
circle of dancers moving counter-clockwise
in unison around the dance floor.
It's based upon choreographed ballroom dancing.
A "cuer," following the rhythm of the music,
presents all the steps over a p.a. system.
Many music styles are featured, including popular
music. Two-steps and waltzes are a couple of
the ballroom styles often taught first.
Does One Partner Have to Lead the Other?
There is no need for one person to lead the other.
In learning the traditional ballroom dance,
many men struggle with the role of
"leading" their partner free-style
around the dance floor.
In choreographed ballroom,
a.k.a. round dancing, each of the
partners learns the steps and those
are identified and cued from the
man's perspective. His partner
simply learns the reverse action.
Are Round Dance Steps Like Ballroom Steps?
Round dance steps are the same as those
enjoyed in ballroom dancing, such as
the two-step, waltz, rumba and cha-cha.
How Challenging is Round Dancing?
The level of challenge that you undertake, as a
round dancer, is up to you and largely based
upon the time that you can devote to learning.
The cues are grouped into levels & called "phases."
Phases I and II are an easy-level while
Phases III and above present more challenge.
Those persons with the time to devote to
increasing their knowledge can learn
up to Phase VI.

A family from Burnaby enjoying
a round dance at the annual August
Penticton Peachfest Square Dance Festival
What Dancewear is Suggested?
Many of the women who enjoy round dancing
like to dress in traditional square-dance style,
including the crinoline underskirt.
Many others, though, like the comfortable,
dressy-casual look.
Without a crinoline, such dresses should be
longer because of the twirling action
on the dance floor.
A long-sleeved shirt and long pants are
suggested for the men.
What Is Round Dancing's Place
in the Dance Scene?
Round dancing can be enjoyed
on its own as a unique dance form.
It's notable, though, that the round dance
has been a companion dance for
square dancers for a considerable time.
One or two round dances generally follow
a couple of square dances throughout a
square dance program. It's optional for the
square dancer whether they wish to participate
in the round dance. The "entertainers" at such
a dance are the square dance caller and the
round dance cuer. Sometimes, the entertainer is
able to lead both dance styles by calling and cueing.
Are There Groups Dedicated Only to Round Dancing?
The round dance has enjoyed such popularity that
non-profit dance clubs and leader-run groups
exist that only do round dancing.
In the Okanagan Valley, there's the Rhythm Rounds
in Vernon and the R & R Rounders in Penticton.
Others exist in Kamloops and the Shuswap region.
Round dance clubs are plentiful on Vancouver Island.
Are There Educational Pages for Round Dancing?
The North American dance community has a very
convenient service dedicated to educating the
public. Through various videos, they detail round
dancing, square dancing and
contra dancing, which is a heritage dance form
that engages facing lines of dancers.
That service is called "You 2 Can Dance" and
it's made available by the International
Alliance for Round, Traditional and
Square-Dance (ARTS).
Click here to see
their round dance video on YouTube.
If you're interested
in the square dance component,
Also relative to square and round dancing in B.C.
is a promotional page about the dance forms
where a comprehensive list is available
identifying new dancer sessions around
the province, including clog dancing in
some cities. The page is presented by the non-
profit B.C. Square & Round Dance Federation.
See: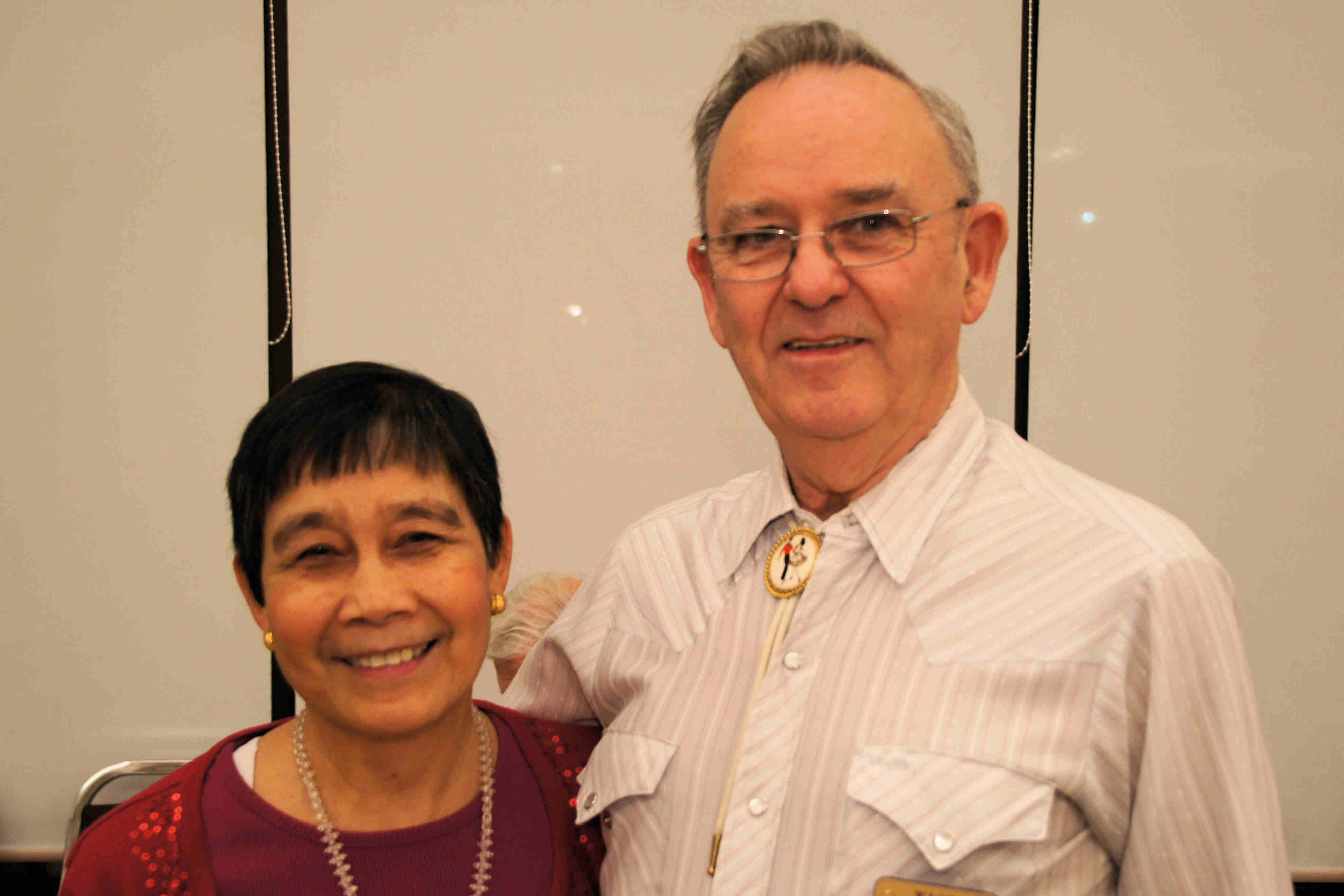 Peter & Stella Tennant,
Round Dance Cuer-teacher/entertainers
& club leaders
About the Instructors/Club Leaders/Cuers
Peter and Stella Tennant of Vernon have
been round dance leaders for about 21 years.
They've been very active over those years
in the Okanagan dance community.
They've also shared their talents at many
Dance Festivals and Conventions.

In February, 2016, at West Kelowna,
they conducted a couple of
fun and successful upgrading sessions
over two separate weekends
for the Valley's regional dance
organization, the Okanagan Square and
Round Dance Association.
The workshops were for round dancers
accomplished in the higher phases of the
activity such as Phase III and above.
It all culminated in a Saturday night
just-for-fun round dance party.
Contact Information:
Peter & Stella Tennant,
Instructors/Club Leaders/Cuers
250-542-3568, mobile: 250-306-4999
This web page is produced by the
Communications & Marketing branch of
the Okanagan Square & Round Dance Assn.
in conjunction with the site host,
the British Columbia
Square & Round Dance Federation